Show Notes:
– Listen to the MP3 of podcast #28


(47.07 minutes)
Interview with Clark Whittington, Founder of Art-mat
On the show, we have the pleasure of talking to Clark Whittington the Founder of Art-o-mat. Art-o-mat restores vintage cigarette machines that sell original art for $5 to $7. The machines are a work of art in their own right! "Art-o-mat is based on the concept of taking art and 'repackaging' it to make it part of our daily lives" (artomat.org). Art-o-mat features miniature works of art (paintings, sculputures, photography, etc.) from over 400 artists worldwide.
– Link to Art-o-mat
– Link to Techno Gaia
– Styrogami by Jules Vitali
– Scott Blake: Bar Code Art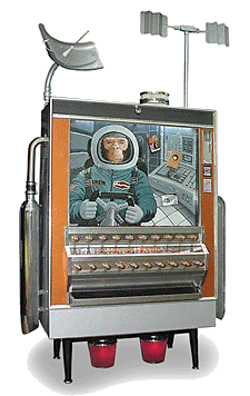 Space by Art-o-mat
Portland, ME
Music from Five Star Fall at MagnaTune.com
– Artist: Five Star Fall
– Song: Mercurial Girl
– Link to Five Star Fall on MagnaTune.com
Production Note:
– The interview with Clark Whittington was recorded using Skype and HotRecorder. You may notice a small amount of echo on our side, but overall the call was very clear. As always, thanks for listening and thanks for staying subscribed!
Contact Info and How to Subscribe
– Contact us by email: artagogo@gmail.com
– Comment line: 831-706-2410
– Podcast feed: artagogo.libsyn.com/rss
– Subscribe to Art a GoGo on Apple's iTunes
– Intro song "Open Your Mouth" courtesy of Secret Dakota Ring
Creative Commons licensed Attribution-NonCommercial 2.5.