Featured Exhibit:
Fra Angelico
When:
October 26, 2005 - January 29, 2006
Where:
The Metropolitan Museum of Art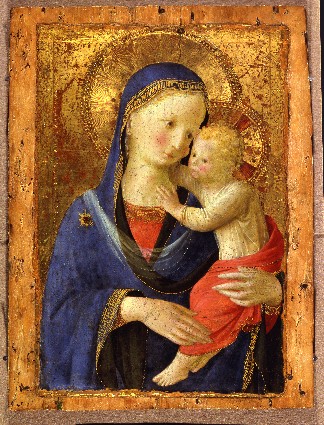 Fra Angelico (Italian, ca. 1395 - 1455)
Madonna and Child, ca. 1449-1453
Tempera on panel 18 3/8 x 13 13/16 in.
Kunstmuseum Bern, Bern, Switzerland
Photo credit: "Kunstmuseum Bern,
Legat Adolf von Stürler, Versailles,
Inv. Nr. G 0874, Ref. Nr.

There is little doubt that the Italian Renaissance is dominated by the artists Leonardo, Michelangelo, and Raphael. In terms of the scope of artistic output, their talent is indisputable. During their lifetimes, all three men were acknowledged as great artists and collectively received some of the most important artistic commissions from the church and the powerful families of Florence and Rome.

But there are many other Italian Renaissance artists that are worth your attention. One of these artists is the painter Fra Angelico.

Guido di Pietro (1390/5-1455) was born north of Florence and was already an artist when he joined the Dominican Order in Fiesole where he assumed the name Fra Giovanni. During his lifetime he received many artistic commissions for altarpieces in Dominican houses in Fiesole, Florence, Cortona, and Perugia. He is best known for the frescoes created for the dormitory cells at San Marco in Florence.

Fra Angelico (Italian, ca. 1395 - 1455)
Paradise, ca. 1435-40 (Detail on right)
Tempera on panel 40 1/2 x 11 1/8 in.
Staatliche Museen, Berlin, Germany
Photo credit: Foto Jörg P. Anders, Berlin
Copyright: Staatliche Museen zu Berlin Gemäldegalerie

Due to his extremely sensitive and serene handling of religious subjects, Fra Giovanni depicted his subjects with a depth of psychological interest that was unprecedented at the time. After his death, Fra Giovanni became known as "pictor angelicus," which has been loosely translated as Fra Angelico.

In 1984, Fra Angelico was beatified by Pope John Paul II, who stated: "because of the perfect integrity of his life and the almost divine beauty of the images he painted, to a superlative extent those of the Blessed Virgin Mary."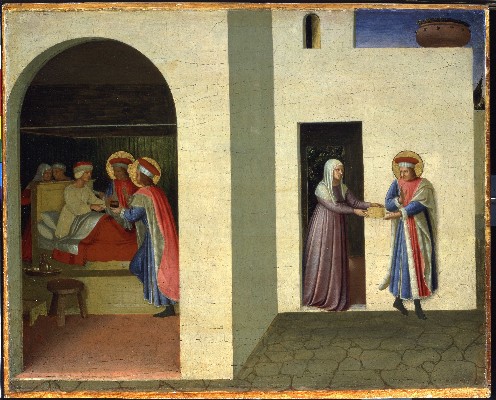 Fra Angelico (Italian, ca. 1395 - 1455)
The Healing of Palladia by Saint Cosmas and Saint Damian, ca. 1438-1440
tempera (and oil?) on panel 14 1/4 x 18 1/4 in.
National Gallery of Art, Washington D.C.
For the first time in the United States, The Metropolitan Museum of Art will feature a retrospective of one of the finest Italian Renaissance artists known as Fra Angelico. The exhibition will feature almost 80 drawings, paintings, manuscript illuminations from his career. In addition, the exhibition is supplemented by 45 other works by Fra Angelico's assistants and followers. Some of the paintings have never been displayed publicly.
For more information about Fra Angelico visit the The Metropolitan Museum of Art's web site.
Visit Artcyclopedia to learn more about the art of Fra Angelico.
Visit Amazon to purchase the exhibition catalog: Fra Angelico by Laurence Kanter.