Show Notes:
– Listen to the MP3 of podcast #26


(37.18 Minutes)
Interview with John Myatt
We had the pleasure of interviewing British artist John Myatt. Myatt along with his former partner John Drewe are responsible for what is described by many to be the biggest art con of the 20th Century.
The story has caught the imagination of Hollywood, with no less than two movies in the works. Michael Douglas' film titled Art Con is currently in development. It was also announced last week that producers Jay Weston and Fred Levinson had purchased the rights to do a John Myatt biopic, which may start filiming by the end of the year.
– Link to John Myatt's web site Genuine Fakes
– John Myatt on Wikipedia
– The Master Forger (Guardian)
– Hollywood eyes British art faker's tale (Yahoo!)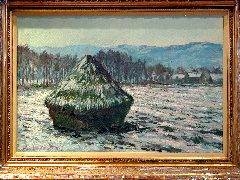 46, HAYSTACKS IN WINTER – by John Myatt
(Monet)
Music from the Podsafe Music Network to Close the Show
– Artist: Pierre Journel
– Song: Jazzy Strat
– Link to Pierre Journel on the Podsafe Music Network
Production Note:
– Thanks again to John Myatt! This interview was recorded using Skype and HotRecorder. The sound quality of Skype calls can vary, so you may need to turn the volume up slightly at the beginning of the interview. As always, thanks for listening and thanks for staying subscribed!
Contact Info and How to Subscribe
– Contact us by email: artagogo@gmail.com
– Comment line: 831-706-2410
– Podcast feed: artagogo.libsyn.com/rss
– Subscribe to Art a GoGo on Apple's iTunes
– Intro song "Open Your Mouth" courtesy of Secret Dakota Ring
Creative Commons licensed Attribution-NonCommercial 2.5.