Show Notes:
– Listen to the MP3 of podcast #24

Hirshhorn Musuem and Sculpture Garden
– The Hirshhorn Museum and Sculpture Garden in Washington, DC invited us to record a podcast during our visit. We had the pleasure of talking to Kristen Hileman (Assistant Curator) and Jennifer Wentz (Web Manager) of the Hirshhorn about the use of podcasting at the musuem as well as the current Hiroshi Sugimoto exhibition.
– Hiroshi Sugimoto at the Hirshhorn Museum thorugh May 14, 2006.
– Link to the Hiroshi Sugimoto exhibition on-line page. Features images from the exhibition along with the Hirshhorn Museum's companion podcasts.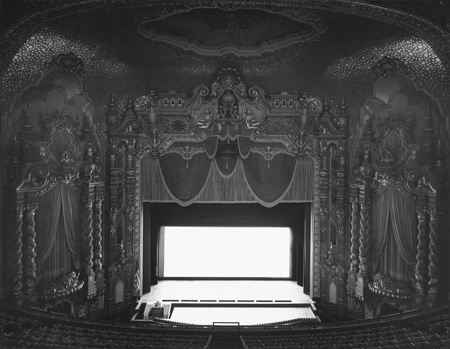 Ohio Theater, Ohio, 1980, private collection. Courtesy of the artist.
– The Hiroshi Sugimoto exhibition moves on to The Modern Art Museum of Fort Worth. The exhibition runs from September 17, 2006 to January 21, 2007.
– There's also a Hiroshi Sugimoto exhibition called History of History which is currently on view at the Arthur M. Sackler Gallery through July 30, 2006.
Podsafe Music to Close the Show
– Artist: Tenth Hour Calling
– Song: Color Me
– Link to Tenth Hour Calling on the Podsafe Music Network
Production Note:
– Thanks again to Kristen Hileman and Jennifer Wentz of the Hirshhorn Museum! You'll notice that the recording volume drops out a bit during the interview (mainly when Kathleen and I are asking questions). We were sharing a microphone and didn't do the best job of passing it back and forth! As always, thanks for listening and thanks for staying subscribed!
Doug
Contact Info and How to Subscribe
– Contact us by email: artagogo@gmail.com
– Comment line: 831-706-2410
– Podcast feed: artagogo.libsyn.com/rss
– Subscribe to Art a GoGo on Apple's iTunes
– Intro song "Open Your Mouth" courtesy of Secret Dakota Ring