Featured Exhibit:
Redwood Vortex: Installation by Chris Drury
When:
On the grounds through 2006
Where:
Montalvo Arts Center, Saratoga, CA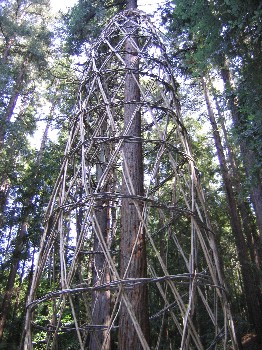 Chris Drury
Redwood Vortex, 2005
Photo: Doug Lang
In a departure from our usual museum art exhibition review, we would like to recommend a small exhibit currently on view at the Montalvo Arts Center in Saratoga, CA.
Tucked away on a Redwood Trail behind the Montalvo Art Gallery is a fascinating site specific installation by British land artist, Chris Drury. "Redwood Vortex" is a monumental 60 foot high woven sculpture that surrounds an old Redwood tree. Constructed of poplar branches, this sculpture soars above your head and seemingly defies logic for how it was created. Similar to other land artists such as Robert Smithson and Andy Goldsworthy, Chris Drury is someone whose art is inseparable from nature itself.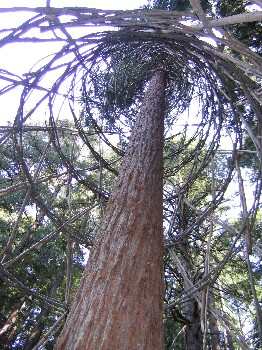 Chris Drury
Redwood Vortex, 2005
Photo: Doug Lang
To see this art installation, you must be present with it; there is simply no other way to experience it. A photograph cannot capture the sublime experience of occupying this quiet space. You are not subjected to the noisy crowds at a city museum or gallery. Instead, after your short hike, you are compelled to pause and really take time to examine what Drury has accomplished.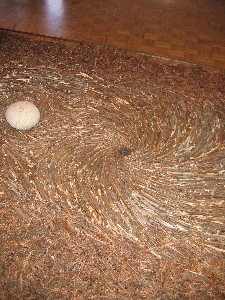 Chris Drury
Pine Vortex, 2005
Photo: Doug Lang
Until August 28th, Drury has two other works available in the Montalvo Gallery: "Fingerprint Mural,'' which consists of 24 enlarged fingerprints painted on gallery walls and ``Pine Vortex,'' an installation of pine needles on the floor.
Kay Syrad, author of Chris Drury Silent Spaces, describes Drury's work: "Chris Drury's art is a story of rhythms, tensions and conflicts, labour, ritual and human intelligence. Each piece of work is a complete narrative, opening out gradually and reaching (temporary) resolution. Every decision about which material to use, which shape to create, where to place a work, whether or how to photograph or record it, and how to think about the contradictions between the work and its reproduction (whether in the gallery or in this book) is a dramatic act that defines, dissolves and renews perception about the relationship between nature and culture."
So why not take the time to visit Montalvo Arts Center. In addition, Montalvo offers many other activities for visitors: concerts, literary arts programs, and children's programs.
Visit the Montalvo Arts Center web site to learn more about this special exhibition.
Visit Amazon to purchase Chris Drury by Chris Drury
Visit Chris Drury's web site