Featured Exhibit:
David Smith: A Centennial
When:
February 3 - May 14, 2006
Where:
Solomon R. Guggenheim Museum, New York City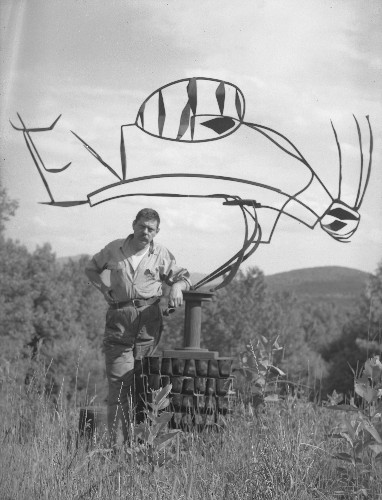 David Smith
David Smith with Australia (1951), outside his home in Bolton Landing, New York, ca. 1951.
Photo: David Smith, © The Estate of David Smith, Licensed by VAGA, New York
His name may be ordinary but the sculpture created by David Smith was anything but. Despite the fact that Smith (1906 -1965) never received formal training as a sculptor, he was described by art critic Clement Greenberg as being the "foremost sculptor of his generation." Smith's fame as a sculptor is all the more remarkable considering that much of his initial success took place during the era of Abstract Expressionism; a period dominated by the painters Jackson Pollock and Willem de Kooning.
In fact, Smith's intention when he enrolled at the Art Students League was to study painting and drawing. However, intrigued by the metal sculptures by Pablo Picasso and Julio González, Smith realized (due to his experience working in a car factory) he already possessed an understanding of working with welded metal. He soon became completely dedicated to making sculptures.
David Smith: A Centennial will be the first retrospective of the artist's work since 1969. Curated by Carmen Giménez, Curator of Twentieth-century Art at the Solomon R. Guggenheim Museum, the exhibition contains over 100 sculptures and a selection of the artist's drawings that document his 40 year career.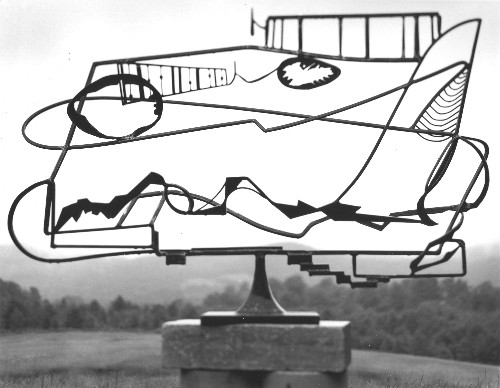 David Smith
Hudson River Landscape, 1951.
Welded steel, 49 1/2 x 75 x 16 3/4 inches (125.7 x 190.5 x 42.5 cm).
Whitney Museum of American Art, New York, Purchase.
Photo: David Smith, © The Estate of David Smith, Licensed by VAGA, New York
Smith became highly adept as a welder and metalworker and believed that metal was the most expressive medium for 20th century sculpture. His early work is considered to be influenced by the surrealism movement. These sculptures possess anthropomorphic shapes that don't insist that the viewer understand the imagery; Smith merely asks that the form itself be allowed to be experienced on a subconscious level.
Hudson River Landscape (seen above) appears as a metal drawing. But how, you might ask, are you to understand it as a landscape? David Smith was asked this same question. His reply: "Is Hudson River Landscape the Hudson River or is it the travel, the vision; or does it matter? The sculpture exists on its own, it is an entity. The name is an affectionate designation of the point prior to the travel."
The idea of depicting a landscape in sculpture was an entirely new concept. For centuries, sculptors created a variety of statues that depicted the human figure, animals, or objects--but never a landscape. Landscapes were the primary domain of the painter not the sculptor.

David Smith
Tanktotem VIII, 1960.
Painted steel, 78 1/2 x 29 1/2 x 12 1/2 inches.
Collection of Dr. and Mrs. Arthur E. Kahn, New York.
Photo: David Heald, ©The Estate of David Smith, Licensed by VAGA, New York, NY.
Smith also worked with painted steel in a series called "Tank Totems." These works demonstrate an influence by the Spanish artist Joan Miró in their anthropomorphic brightly colored forms. With this series, Smith began working on a more monumental scale. Tanktotem VIII (seen above), for example, measures 6.5 feet high.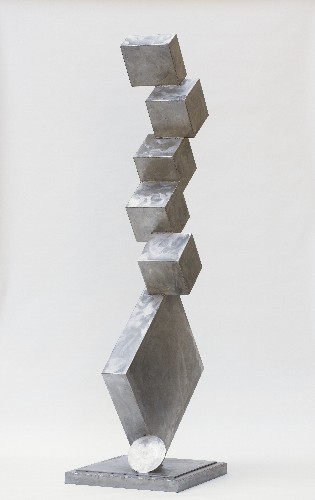 David Smith
Cubi I, 1963.
Stainless steel, 124 x 34 1/2 x 33 1/2 inches.
Detroit Institute of Arts, Founders Society Purchase, Special Purchase Fund.
Photo: ©2005 Detroit Institute of Arts.
During the 1960's, Smith began the last of his series of sculptures called the "Cubis." These polished stainless steel sculptures are often considered to be the most celebrated works of his career. Constructed of burnished stainless steel, these large sculptures, such as Cubi I (seen above) at times seem figural or architectural but they are always geometric. Utilizing the basic geometric shapes of cylinders, cones, and cubes, they are welded together in seemingly precarious positions.
The exhibition, David Smith: A Centennial, is sure to be one of the highlights of the year in art. So if you have the opportunity, come to New York and see for yourself why David Smith is rightfully considered to be the most innovative and influential American sculptor of his generation.
For more information about David Smith: A Centennial visit the Solomon R. Guggenheim Museum
To learn more about the art of David Smith, visit the following web sites:
Artcyclopedia
The Estate of David Smith
Visit Amazon to purchase the exhibition catalog David Smith: A Centennial
by David Smith, Carmen Gimenez, Rosalind Krauss, and David Anfam